Three little letters can make a big difference when you want to make money online. This is especially true when it comes to creating and managing your own website. Seemingly small decisions, like picking a side in the WordPress.com vs WordPress.org debate, can have a huge impact down the line.
WordPress is one of the most widely known website platforms, so it's not exactly surprising that many freelancers and business owners start here. What's more difficult to understand, is whether WordPress.com or WordPress.org is the right choice. (+ How to fix it if you found out you chose the wrong option.)
Some people luck into choosing the best option for their business. This was certainly the case for me. I didn't know about the differences between the two and why they matter until a few months ago. Now that I have information about how they compare, I want to make sure that other freelancers are aware as well.
Let's dig into everything you need to know about WordPress.com vs WordPress.org.
What is WordPress?
WordPress is an open-source content management system. Anyone can use or modify the WordPress software. This content management system allows you to create your own website, without having technical knowledge.
The software can be used for any purpose — but it's proven to be a popular choice for freelancers because it's an easy-to-use and flexible option. You don't have to be a developer to understand how to get your own website up and running. In a time where your online presence is more important than ever, this is key. Business owners need something that is easy to set up and maintain. WordPress is one answer to this need.
However, a lot of times people refer to this platform simply as "WordPress", and many don't know that there are differences between WordPress.org and WordPress.com. This is because they're so similar, but it's in your best interest to understand that they are separate, and what that means for you.
What is WordPress.com?
The free version of WordPress, which runs on its own domain name was originally created as a blogging platform, but today, it offers more than just personal blogging. You can use it to build complete websites. There are limits, terms, and conditions associated with choosing to use this free option.
What is WordPress.org?
WordPress.org (sometimes referred to as self-hosted WordPress,) is open-source software that anyone can modify. If you want to have your own website, this is usually the way to go. It gives you complete control, but it does require users to spend some money. This can get confusing because a lot of users don't understand what they're actually paying for when they go this route. After all, isn't WordPress free? More on that in just a bit.
Are WordPress.com and WordPress.org run by the same company?
It's complicated. Matt Mullenweg is a co-founder of WordPress, and the CEO of Automattic, the company that runs WordPress.com. He's involved with both WordPress.org and WordPress.com. Some WordPress contributors also work with Automattic.
If you're head's spinning, here's what this boils down to when you're looking at WordPress.com vs WordPress.org:
Both offer similar experiences, but there are differences between them that can impact your ability to accomplish your goals with your WordPress website.
What are the key differences when breaking down WordPress.com vs WordPress.org?
There are many ways in which these two versions differ from each other. Here, we'll look at some of the most important ones so you know what to expect before signing up.
WordPress.com pros
First, let's walk through some of the positive things that come with choosing to start a website on WordPress.com.
It's free
Is there a price better than free? Many would say no, and that's one reason many users start here. This option is free for personal use. You can begin building an online presence without spending a dime. That makes this choice compelling for hobbyists or those that aren't ready to commit to their business idea yet.
Automatic updates
Updates to your WordPress.com site happen automatically, so there's nothing for you to manage. These updates can't be turned off. Your site will always have the latest version of WordPress and the theme you use.
Premium support
If you do choose to upgrade to a paid WordPress.com plan (more on this below), some plans offer access to premium live support. For less technologically savvy users, this is a great benefit to take advantage of if you get stuck when adding something to your website or when you need to make major updates.
WordPress.com cons
These are a few of the drawbacks that come with choosing this option for your website.
You can't have a unique domain
If you are using WordPress.com, then you can't use a custom domain name. Your web address will be a subdomain. (thenameyouchoose.wordpress.com). This isn't very professional, but worse, it may cause issues for you down the line.
If you choose a name for your business but don't own the actual domain, someone else could purchase it. If that happens, when you try to make the move to your own website, you may have to change the name of your site too.
WordPress ads and branding
WordPress.com displays ads on free sites to cover costs. You don't have control over the ads they display. You also aren't able to remove these ads or WordPress branding without upgrading to a paid plan.
These ads can distract from important messaging on your website and pull visitors away from the content you want them to see. While you might be able to tune them out after looking at your website enough times, that's unlikely to be the case for others.
No ability to install thousands of themes or plugins
WordPress has over 50,000 plugins and themes that users can install to build their website. However, these are not available to WordPress.com users. You'll have limited customization options. If you go with this choice, you can only choose from a limited selection. You may not be able to create your website the way you want to with premium themes and plugins.
If you'd like the ability to do any of the things mentioned above, you can choose to upgrade to a WordPress.com paid plan. Here's a look at the monthly cost:
Personal plan – $7 per month
Premium plan – $14 per month
Business plan – $33 per month
eCommerce plan – $59 per month
WordPress.org pros
Now, let's talk about why most users benefit from choosing WordPress.org for their website.
Use a custom domain
With WordPress.org, you have to have your own domain, not a subdomain. This looks much more professional and is a big step in creating your home base online. If it's available, you can use your own name or you can come up with a name to represent your business.
You own your website and data
Unlike WordPress.com, there aren't many restrictions you need to deal with on WordPress.org. It's a self-hosted platform, so your site and its data are in your control, and you don't need to worry about it being taken down for breaking a rule in the terms of service.
Options for monetization
Do you want to include ads on your website through a service like Google AdSense or run your own store? This is possible with WordPress.org. You can make money using advertisements, sell your own products and services or use other monetization methods.
WordPress.org cons
There aren't many drawbacks that come with using WordPress.org, but here are the cons that you should be aware of.
Paying for a hosting service
You need to register a domain and pay for hosting if you choose WordPress.org, which is an extra cost. There's no free option for you to start with. Prices for a hosting plan and your domain can vary, depending on where you purchase from.
Site management
WordPress installation, setup, and website maintenance aren't automatically taken care of for you with WordPress.org. If this isn't something you're comfortable dealing with yourself, you'll want to look for companies that offer one-click installation and resources to help you manage your website.
Limited support
While in some instances, you can get personalized support using WordPress.com, things aren't so simple on .org. You'll need to visit the WordPress.org online forums to get assistance. While the community there is very active, you may not get support as quickly as you would prefer.
WordPress.com vs WordPress.org: Which one is cheaper?
This depends on what you want your site to do. WordPress.com is free but is only recommended for hobbyists, because of the limitations. Since you can't monetize these sites or remove WordPress branding, this option isn't ideal for business owners.
Cost comparison: WordPress.org can actually be cheaper in the long run, because you can purchase a domain for yourself and hosting for about $130 per year. If you upgrade to get all the same functionality from WordPress.com, it will cost you $300+ per year.
That's more than double, and it isn't worth it for most business owners to pay that amount for WordPress.com.
When should you use WordPress.com?
If you are just starting out and don't have a lot of cash on hand, WordPress.com may make sense. Just know that you could run into some limitations that may leave you wanting to upgrade. Paying for a WordPress.com plan may also be the right choice for you if you don't want to manage backups or updates.
When should you use WordPress.org?
In almost every instance, when comparing WordPress.com vs WordPress.org, the latter is going to be the better choice for business owners. You'll save money over time by purchasing a domain name and hosting separately. You'll also have access to powerful features, themes, and plugins right from the start, so you can customize your site and make it exactly what you want it to be.
If you do work online selling products or services. It's likely that WordPress.org will be the best option for you. Starting here can save you some work in the future, as you won't have to migrate your site from .com to .org later.
Can you switch from WordPress.com to WordPress.org?
If you already have a WordPress.com website, but the benefits of using WordPress.org sound good to you, you can make the switch without losing data. This process will allow you to import site data including posts, pages, and images. It doesn't include themes or plugins. You will need to reinstall these after uploading your old content.
Before you begin, you'll need WordPress hosting and a domain name. I recommend SiteGround for this because it's one of the hosts I used early on. They offer good support to their users and an in-depth tutorial on how to move your site from WordPress.com to WordPress.org.
Do you have your domain and hosting ready to go? At this stage, you'll be ready to export your data from your existing WordPress.com site, and upload it to your WordPress.org site. Use a computer to complete this process.
11 steps to move from WordPress.com to WordPress.org
1. First, log in to your WordPress site at WordPress.com. Go to Tools > Export.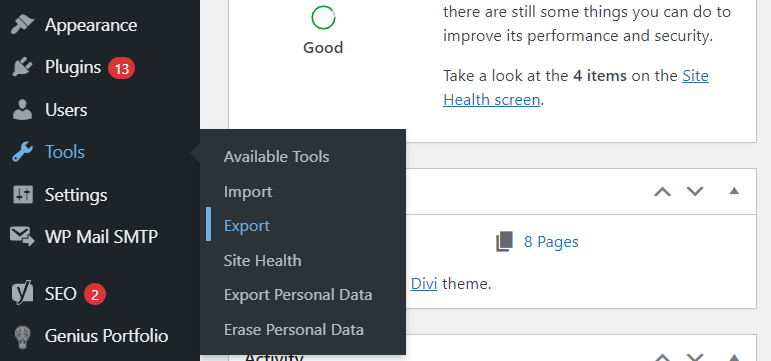 2. Select all content and click the "Download Export File" button at the bottom of the page.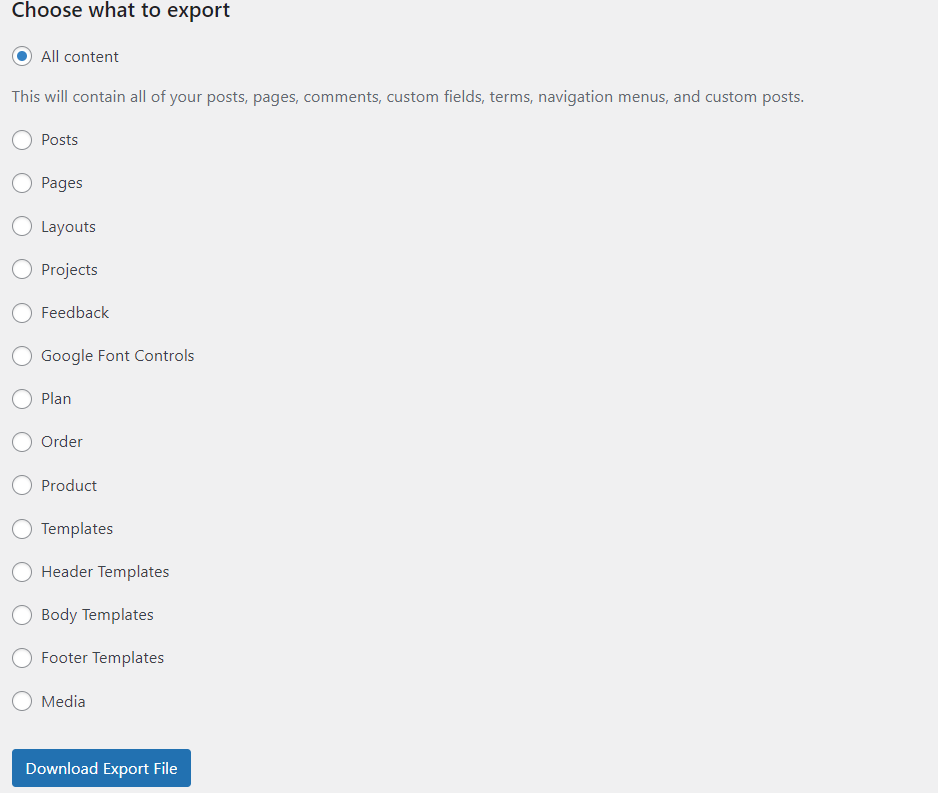 Once the process is complete, a .xml file will save to your computer.
3. Locate the .xml file. This is the file that contains all your data.
4. Now, you'll need to upload it to your WordPress.org installation of WordPress.
(If you don't have your installation yet, this part of the process will depend on what host you choose. Ideally, look for one that offers a setup wizard or 1-click installation.)
5. From here visit the Tools > Import page.
6. On the Import page, click on the 'Install Now' button below the WordPress section.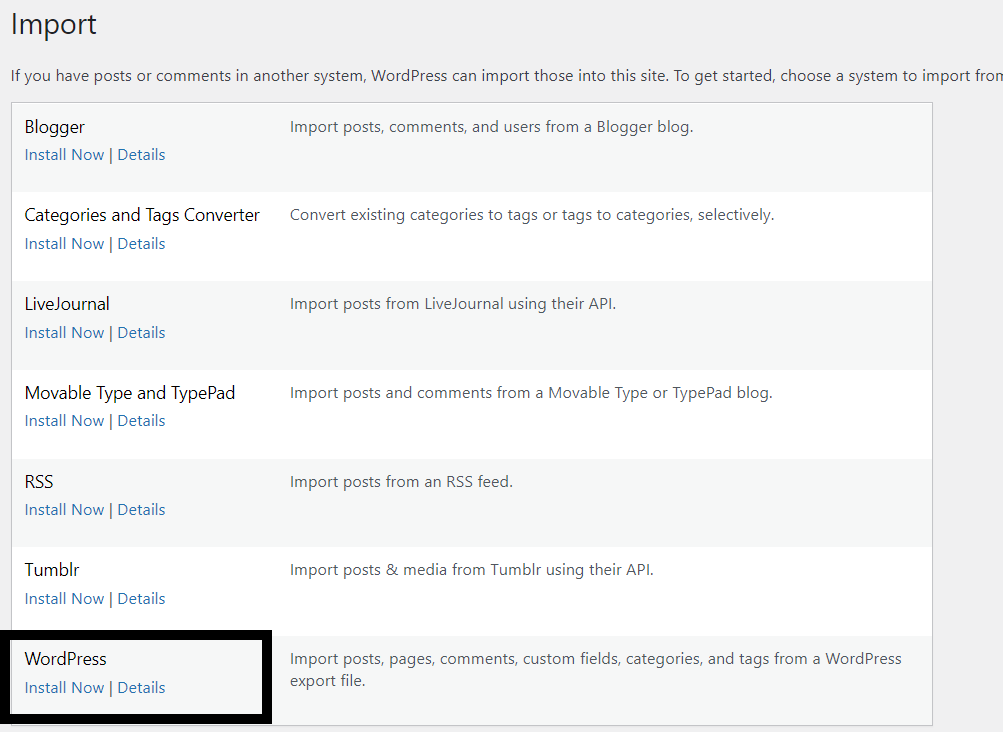 7. WordPress will install the WordPress importer. After that, click "Run Importer."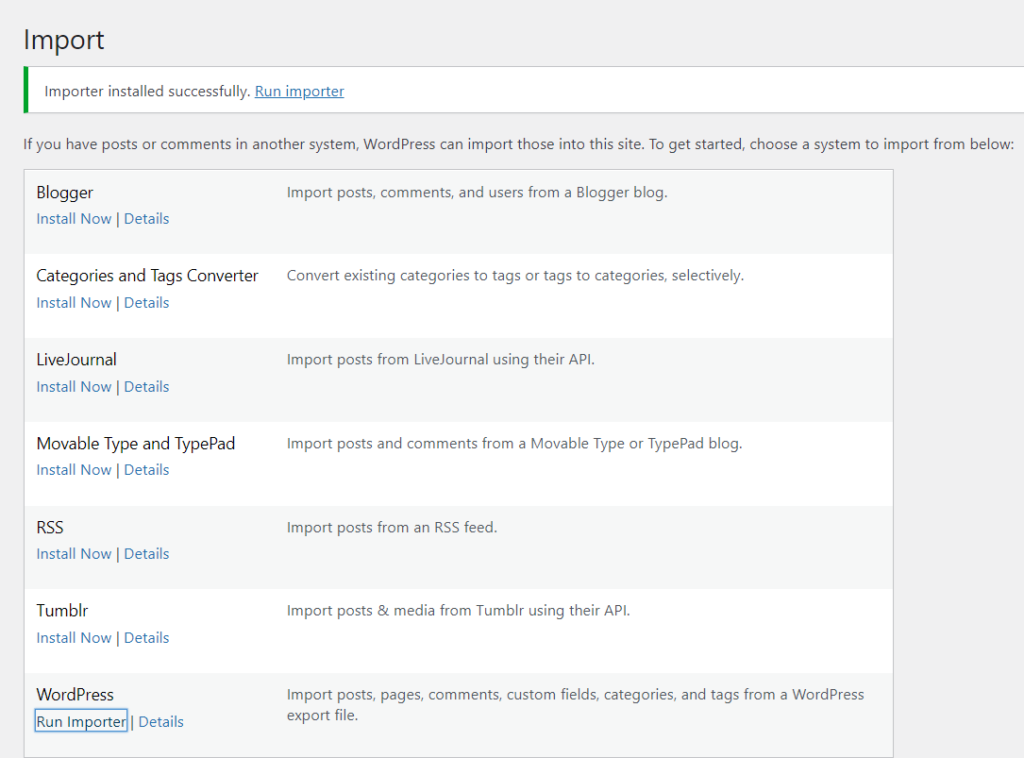 8. You will now see the WordPress Import page. Click "Choose File" and upload the .xml file you downloaded earlier.

9. Then, click "Upload file and import."

WordPress will upload your file. This may take several moments.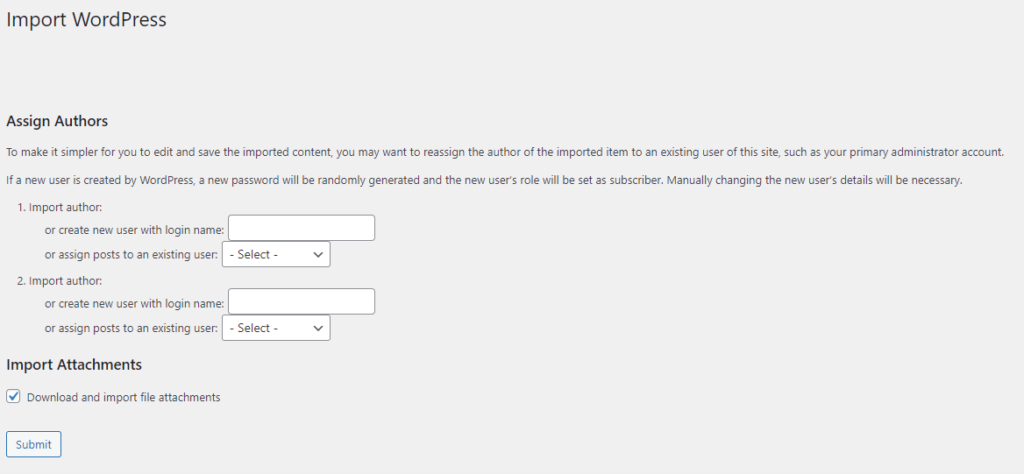 10. The "Assign Authors" section will allow you to import the username of the content creator, create a new author for the content, or assign the content you're importing to an existing author.
When left blank: The original username will be added to your installation and become the author of the content.
If you enter a name in the 'create new user with login name' field: This will create a new user that will have imported content assigned to it.
If you select a user from the 'assign posts to an existing user' section: The content will be imported and assigned to the existing user in your installation.
Keep in mind: If you have image files on your site, be sure to check off the "Download images and file attachments" option.
11. Finally, click "Submit"
At this point, the process will be complete.
*You may need to take additional steps if your WordPress.com site had traffic and was ranking in search engines. If this applies to you, read this post on how to keep your SEO intact when migrating a WordPress website.
Get a WordPress plugin that simplifies freelance portfolio creation
A dedicated website is a must-have for online business owners, and choosing the right tools can make this easier to manage. Genius Portfolio is a WordPress plugin for freelancers that makes it possible to create a stunning portfolio in just a few clicks.
See how easy it can be to get full creative control and build a brilliant portfolio that makes the right first impression with clients. Learn more about the free and premium versions of Genius Portfolio for WordPress on this page.
If you have more questions about WordPress.com vs WordPress.org, leave a comment or reach out on Twitter.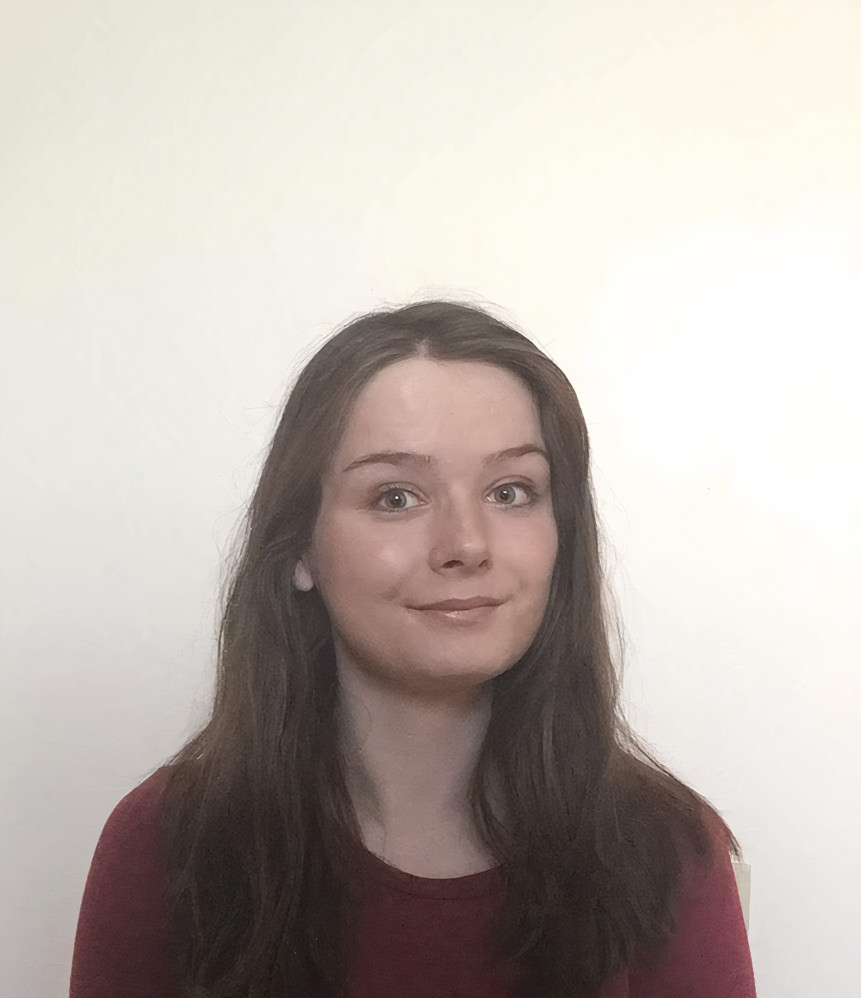 Aly Goulet is a full-time freelance writer and the co-creator of Genius Portfolio for WordPress.